Fill out this form
to receive your free quote!
Keeping up with exterior maintenance can be exhausting, but is truly vital for the health of your home!
The harsh effects of weather can cause water damage, fading, peeling, and yes, rot.
Let us help keep your home protected, safe, and beautiful!
ROOF CLEANING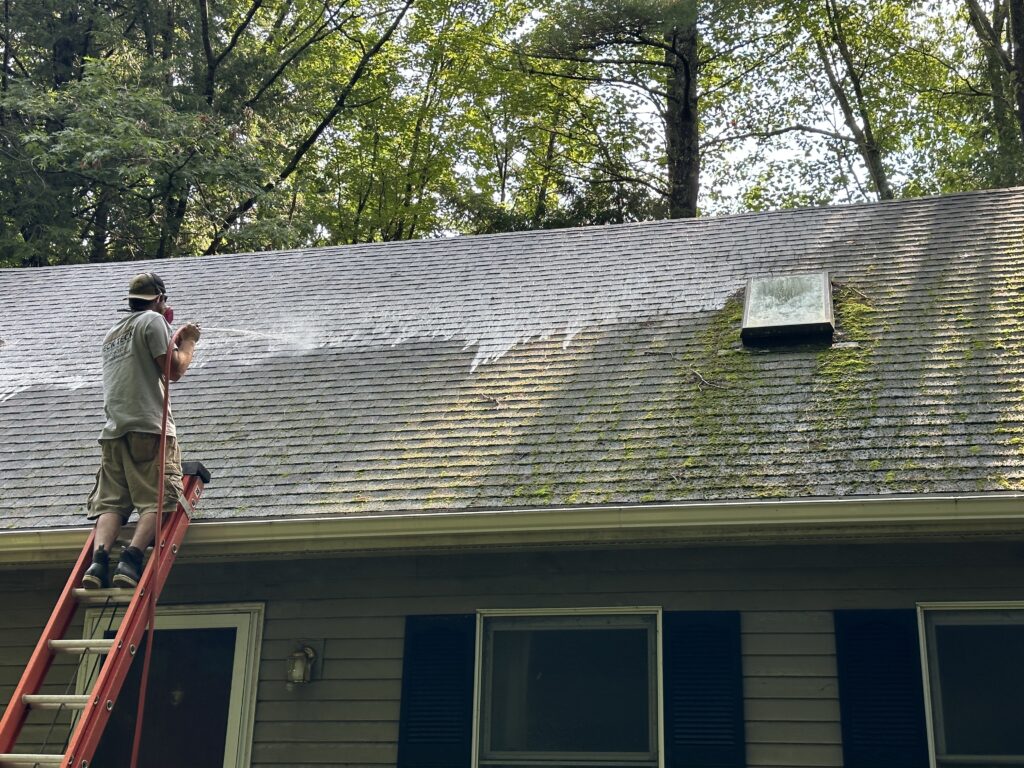 Look up! Those stains, moss, and algae on your roof are gradually destroying – eating away – the shingles!

Our professional roof treatment can extend the lifespan of your shingles, saving you from costly future repairs or even premature replacement.
GUTTER CLEANING
Gutters that are full of leaves and other debris can't effectively direct water away from the building. That overflow will ultimately cause damage and decay to your siding and foundation.
Our high pressure cleaning equipment will leave your gutters and downspouts free-flowing and completely clear of debris. And we even test for leaks!
DECK MAINTENANCE & REFINISHING
Decks and porches are fully exposed to the elements, and therefore need continued upkeep.
As experts in wood care, we can restore, preserve, and protect them from the destructive effects of nature. Of course adding value to your home and curb appeal, too!
PATIO & WALKWAY MAINTENANCE AND RESTORATION
Don't let your hardscape surfaces crumble! Dirt and moss can erode what should be a firm, solid ground surface.
We'll thoroughly clean and restore them to their original pristine condition, aesthetically and structurally.
EXTERIOR SOFT WASHING: SIDING, WINDOWS, DOORS
A dirty house is more than just ugly – it's a sign of mildew, mold, and algae that spell bad news for your siding.
Our washing service extends the life of your siding, saving you money on repairs and repainting in the long run.
DRIVEWAY CLEANING
Driveways accumulate oil and debris that can make for a slippery surface! the grime and chemicals also contribute to general deterioration and the formation of cracks.
We'll clean things up, making the area dirt-free and safe.
OUTDOOR FURNITURE WASHING
A clean chair is certainly a bit more inviting than a dirty one!
We can safely and thoroughly clean your furniture, extending its life and appearance, too.
SPECIALIZED WOOD CARE AND PRESERVATION
Ipe, cedar, Mahogany, and other high end woods need specialized care, and the pros at Deck Deck are the skilled perfectionists you want!
We can restore your hardwood and pressure treated decks, natural wood siding, roofs, fences, docks, and more!
We also offer an ANNUAL MAINTENANCE service to keep your home looking its best year after year!
We look forward to working with you!
BEFORE AND AFTER!