Are you thinking about building a new deck, and not sure which decking is worth the investment? Let's take a dive into the world of decking.
First, we can divide decking into three main categories:
Softwood Decking: Pressure-treated Pine, Western Red Cedar, Eastern White Cedar, Redwood, and more.
Hardwood Decking: Ipe, Cumaru, Tigerwood, Garapa, Massaranduba, Mahogany, and more.
Manufactured or Synthetic Decking: Composite decking, PVC decking, and more.
Softwoods
Pressure-treated decking has been around for decades. It's traditionally been a common decking material choice, primarily due to its low cost and widespread availability. Different regions will manufacture pressure-treated lumber from various species of wood. On the East Coast, Southern Yellow Pine is utilized. The lumber is harvested and then treated with chemicals in a pressurized tank, giving the wood an increased ability to resist rot and decay. The pressure-treating also deters termites, but it doesn't prevent warpage, mold growth or cracking.
With that in mind, annual maintenance of this decking should include washing any mold, mildew and debris off the deck as well as applying a stain to protect the wood. Annual staining can easily more than double the lifespan of natural wood decking. Without regular maintenance, pressure-treated decking will quickly begin to warp and crack shortly after installation. The best time to stain new pressure-treated decking is about 3-6 months after installation. This is because the decking initially has a high moisture content due to the treatment process and the decking needs to dry out for a while before the stain can be applied. Through years of experience, we've developed a very effective staining and preservation process for all natural wood decking. Check it out here.
Pros: 
Least expensive decking

Widely available

Resistant to rot

Can have a great appearance when stained
Cons: 
Shorter lifespan

Shrinking, warping, cracking and splintering are all inevitable, though they can be minimized with proper maintenance

Cannot be stained immediately after installation

Chemicals in wood can be hazardous
Lifespan: 8-12 years depending on preventative maintenance measures.
Cedar and Redwood are a less popular choice but can be a good option for those who want nicer looking decking, that's still resistant to rot. Thanks to natural oils in the wood, both Cedar and Redwood have anti-decay properties just like pressure-treated does, but without any of the harmful chemicals.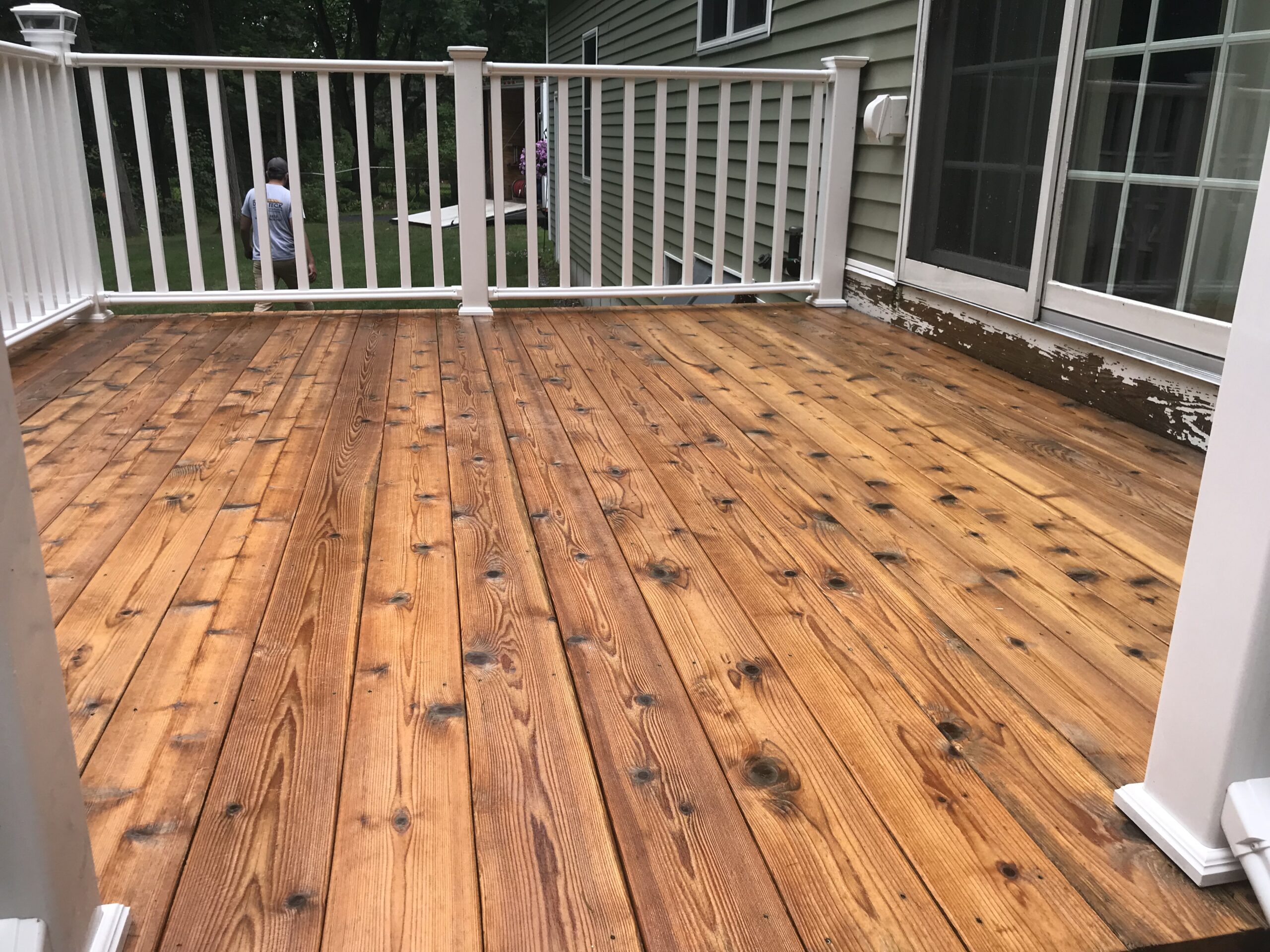 Unfortunately, these materials are among the softest wood used in construction. Therefore, they are very susceptible to physical damage. Their surface is easily scratched by foot traffic, furniture, pets, and snow removal tools. Cedar and Redwood also require annual washing and staining in order to achieve the longest lifespan. However, unlike pressure-treated decking, Cedar and Redwood can be stained immediately after installation, and they aren't as prone to shrinkage, cracks, or warping.
Pros: 
Naturally rot resistant

Aesthetically appealing

Can stain immediately

No chemicals.
Cons: 
Very soft, not high durability

Requires maintenance

More expensive than pressure-treated decking.
Lifespan: 8-15 years depending on preventative maintenance measures.
Hardwoods
Mahogany, Cumaru, Tigerwood, Garapa, Massaranduba, Meranti, and Teak are some of the more common hardwood species used for decking. These materials all share some common characteristics. First and foremost, they are much more dense in comparison to softwoods. Therefore, they naturally resist physical damage, rot, decay, and insect penetration very well.
One downside to this density however, is that it can make installation a slightly more difficult task. Deck boards are significantly heavier, increasing installation time. Also, pre-drilling is often required before installing fasteners, which can be a slow process. These types of hardwood can provide a fairly long service life but should be maintained annually with both a cleaning and protective stain. 
There's one more hardwood species that's so durable, we classify it all by itself…
Ipe pronounced: (ee-pay) is the ultimate of all hardwoods, Ipe sits at the top of the Janka wood hardness scale. Ipe's extreme density allows for incredible natural durability, and therefore offers the maximum lifespan of any natural wood decking. Ipe can hold up very well without any maintenance, actually. It is recommended that Ipe immediately be stained after installation in order to protect the wood while it stabilizes and fully acclimates to the climate. After the initial staining, the wood can be left to weather to a silvered appearance. However, weathering will cause the wood to lose its deep, rich color, which in our opinion is one of the most appealing aspects of any hardwood decking. Regularly applying a stain will preserve the beauty of any of these hardwoods long after installation, as well as help prevent minor cracking, and splintering. Ipe is the best of the best in natural wood decking, and the only material that we recommend for a hardwood deck project.
Pros: 
The most durable and longest lasting real wood material

Beautiful, natural appearance

Minimal maintenance required
Cons: 
High installation cost

Does require some maintenance to keep a beautiful appearance and achieve its maximum lifespan
Lifespan: The lower grade hardwoods listed above typically perform well for 10-20 years, depending on the wood species and maintenance. Ipe can last 30-50 years with minimal maintenance, or be extended to over 50 years with annual maintenance.
Manufactured and Synthetic Decking
Wood-plastic composite decking by definition consists of a combination of two or more materials. This product was first introduced in the late 1990s. Composite decking was initially created with recycled plastic, blended together with wood sawdust byproduct. The mixture was blended together and heated up in a massive oven, then extruded out of a machine to form the decking. This new decking was touted as a low-maintenance material that was economical to produce with recycled materials. Literal tons of it were sold and installed in the early years of production. Unfortunately, major durability problems quickly presented themselves. Since the decking was made primarily from fine wood particles, it soaked up water like a sponge. Compounding this with expansion and contraction caused by temperature swings in most climates netted catastrophic results. The material would split, crack and in many cases completely fall apart as the wood particles broke down. Another major problem was that the decking stained very easily. Mold, mildew, dirt, paint, or even grease from your grill would all leave unsightly permanent blemishes. Manufacturers realized these problems and eventually developed a solution: capped wood-plastic composite decking.
Capped wood-plastic composite decking: Jumping ahead to current day, many advancements have been made in wood-plastic composite decking. Most of the decking is still manufactured using the same basic principles originally developed, but with some significant advancements in the materials and processes used.
The most notable difference to the new "capped" composite, is that the exterior surface of the board is now encapsulated on three sides with a thin layer of plastic. This thin waterproof shell, covering the outside of the composite material protects the core of the decking. Therefore, many of the issues that plagued early composite decking have been resolved. The polymer shell diverts moisture away from the composite core as well as prevents staining on the surface of the decking.
Durability and longevity of wood-plastic composites continue to improve as companies make more refinements in the manufacturing processes. However, limitations do exist whilst wood sawdust remains a foundational raw material used in its construction. The wood particles inevitably have a tendency to absorb moisture, which can occur through the ends of cut boards as well as to the underside of the decking where the polymer shell does not exist. While not as severe as the early composites, this can still contribute to some expansion and contraction, swelling and cupping of the material, and eventual degradation of the decking. One way manufacturers are improving the lifespan and durability of wood-plastic composites is by forming the material under higher pressures. This creates a denser final product, and makes it less susceptible to water absorption. However, higher density means the deck boards will absorb more heat from the sun. Dark colors especially, can become hot to the touch.  
Pros: 
Usually made from mostly recycled material

Little maintenance is required
Cons: 
Heavier and denser than other manufactured decking

Slightly higher installation cost

Can become hot to the touch in direct sun

Less stable when compared to other manufactured decking (prone to moisture absorption and expansion/contraction)
Lifespan: 25-50 years for modern capped wood-plastic composite decking. Early wood-plastic composite was significantly less.
Mineral based composite decking is a recent advancement in the manufactured decking industry. This new composite material is formed using minerals (rocks) in place of sawdust. This decking is made from partially or fully recycled plastics, and naturally occurring minerals such as calcium carbonate. This mineral has been used extensively in concrete aggregates, roofing and other highly durable materials for decades. The recent integration of this mineral to decking is a groundbreaking innovation to the industry.
Pros: 
No maintenance 

Made from recycled and renewable material

Extremely durable 

Very easy to clean

Highly slip resistant 

Stays cooler to the touch than wood-plastic composites
Cons: 
Limited availability 

One of the more expensive decking materials
Lifespan: 50+ years.
Cellular PVC Decking is made from poly-vinyl chloride, a highly durable, water proof, and flame retardant material. This decking has grown to become one of the most popular options, especially for folks who want a permanent deck solution that will never require replacement. Since this decking has no wood fibers or other natural elements that could break down over time, moisture will never affect it, nor will it stain easily.
If the surface gets moldy or dirty, cleaning is a breeze. PVC decking is lighter in weight than any other decking, decreasing installation time. Its lower density also means that in direct sun, PVC decking remains cooler to the touch, allowing you to use your deck more often and more comfortably. The material cost is similar to that of capped composites and hardwood decking, but with PVC, you also get peace of mind knowing that you'll have a true no-maintenance decking. With many natural looking colors and grain textures to choose from, you'll swear it looks just like real wood.
Pros:
Extremely long lasting. Very easy to clean. Easy to install. Stays cooler than composite decking. Usually made from partially recycled material.
Cons: One of the more expensive decking materials, but potentially the best value since it's certainly the last decking you'll ever need to install.
Conclusion
Here at Deck Teck, we believe in designing and building only the highest quality, most durable outdoor living spaces. For that reason we prefer to use cellular PVC decking on all of our projects. The marginal cost increase is far outweighed by all of it's benefits in our opinion. But if you're a DIYer on a tight budget, looking to save some money, then a lower grade composite or wood decking may be a good fit for you if you're willing to make some sacrifices in the quality and overall lifespan of the final product.